Fulltime Killer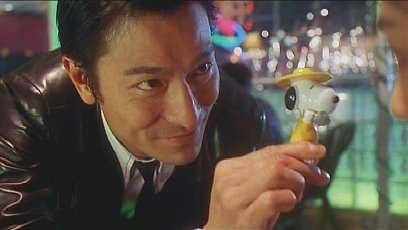 A Taiwanese woman running a Japanese video store in Hong Kong cleans the apartment of a Japanese hitman (who listens to country music and collects American comic strip figures) but then starts dating a Chinese assassin who quotes French and Mexican action films. Did I mention there were Swedish cars in Malaysia and Singapore, and that the Hong Kong police do voice-over narration in English?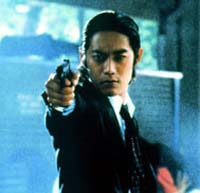 The cultural casserole cooked up by writer/director Wai Ka Fai and his co-director Johnnie To is the basis for an extremely entertaining action film about the globalization of mass media and its effect on an audience who assimilates violence with sex with diversion. The Chin character (video store clerk and housekeeper) is the crux of this thesis, a girl without an identity who creates her own perfect man by drawing into her life the aspects of two professional killers. In a story about creating identity, it makes sense that the cop would become a novelist and the hitmen would become legends (who realize their self-destructive fantasy in a scenario based on a video game). But what's also super-cool about the flick is that the dense plot plays its cards close to its chest -- although exclusively self-reflexive and hardly emotionally engaging, the story does reveal information bit by bit at perfect times, structured in a dischronology that accentuates the hedonistic themes of the script.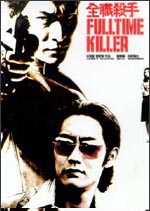 Fulltime Killer
makes the most of To's skills with character and acting (as usual, he gets a great performance from Andy Lau as the cocky, rabid Tok) and displays a knack for casual conversation that flows naturally into brutal violence much like To's 1999 film
The Mission
. Wai's contributions to the film's direction are evident in the angular slo-motion of the bravura action set-pieces (a train station shoot-out and an exterior ambush against cops are two notable occasions, not to mention the Beethoven's 9th-drenched climax in a fireworks warehouse), some of which equal the dazzling craft Wai demonstrated in his masterpiece to date, the Chow Yun-fat western
Peace Hotel
. Occasionally clumsy and not especially cohesive (did we really need the Olympics, the older brother, or the puking and foaming at the mouth?),
Fulltime Killer
can chalk up its heterogeneousness to the incongruity of the cultures it explores: when you're pasting together a quilt of continents into a film that celebrates the diversity of the art form, you're bound to let a couple disparate tones butt heads. That's a flaw I'm willing to accept at the stylish and manic hands of Johnnie To and Wai Ka Fai.