Anger Management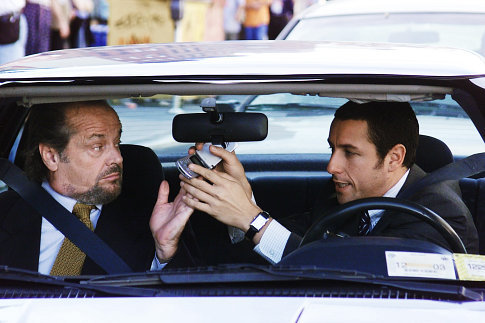 My feelings about Adam Sandler are no secret. I think he's hilarious. I loved his work on Saturday Night Live, particularly when he did his wicked good Boston skits, and
Happy Gilmore
is really the crowning achievement of his surrealist fratboy comedies. Paul Thomas Anderson recognized what makes Sandler funny as well and did an amazing job turning the Sandler screen persona on its head by showing it in the psychopathic light that is really at the heart of his humor. Obviously most of his fans didn't appreciate that. Ebert always says that there is a great comedy in Sandler somewhere, but he hasn't made it yet. I'd agree, even though I like the bulk of his work better than Ebert does (go back and read Ebert's review of
Punch Drunk Love
, it was everything I wished I'd written.)
At any rate, Sandler goes back to catering to his fan-base in
Anger Management
. This isn't quite a return to form though, I'd compare it more to his relatively straight role in
The Wedding Singer
(another underrated Sandler film). Sandler is able to go back and forth easily, making his own buffoonery seem idiosyncratic and then playing straight making the rest of the world seem insane. There is a strange dichotomy between the tenderness in the treatment of the pathetic characters who populate his films and the ruthless way that they are ridiculed. Think of Steve Buscemi in
Billy Madison
who gets the "grown up apologizing bully" call from Sandler and then proceeds to mark him off his "people to kill" list while smearing lipstick all over his face. You get the idea.
There are a number of these antics in
Anger Management
but not as much and that is largely because the filmmakers had to make room for Jack Nicholson. Jack had to be given lots of time to act batshit and give that crazy smile and just generally "Jack out". It isn't very imaginative but it is still fun to watch. Jack is good at it, and that people so easily dismiss him when he gets his "shining" on distracts from that fact. I'm sure most of you have seen the trailer so I won't bore you with plot details. The scene that sets it all up on the airplane plays into the tiny voice in America that is saying we're all a little too edgy and tired of being told what not to say in this "sensitive time" when obviously common sense should win the day. The comedy of misunderstanding can get tiresome but sometimes the laughs derived from the frustration can be very rewarding (especially in a much better film like
Meet The Parents
.) Just about everything that can go wrong for Sandler's character of course does. Most of the film consists of Nicholson torturing Sandler and us laughing at his misery. While the ending is a completely idiotic cop out, I laughed plenty along the way so I didn't quibble. Aside from that there are some funny small roles. Luis Guzman and John Turturro are always fantastic. Heather Graham looks so good it makes you want to cry. Other than that, there are quite a few annoying celebrity walkons that kind of throw the pacing of the movie off. It's nothing special, but it's good for a few laughs so maybe wait a while and check it out at Blockbuster. If you didn't like Sandler before, however, nothing here is going to convince you.