Spider
Spider
, directed by David Cronenberg and his first film since 1993's M. Butterfly that he has not written himself, is a tough, agonizing film to watch. It subjectively chronicles the release of mental patient Dennis 'Spider' Cleg (Ralph Fiennes) as he returns to the neighborhood of his youth and relives the events that occurred there and presumably forever warped his mind.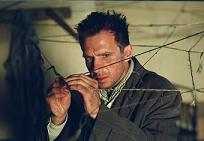 Surrounded by the exaggerated drabness of a halfway house in what must be the most empty and soulless neighborhood of London, Spider shuffles around his past and his present shell-shocked and mumbling. It is as if the man never recovered from some dreadful event that shook him to his core, leaving him the lone ability to slowly bounce around the recesses of his shattered reality. At the halfway house he scribbles gibberish in a tiny little notebook, simultaneously flashing back to his childhood and writing it at the same time. Spider's wretched memories try to reconstruct the death of his mother (Miranda Richardson) by the hands of his father (Gabriel Bryne) and her replacement in the household by the father's barfly whore. In a rather disturbing turn of events (as if the situation was not traumatic enough) it quickly becomes clear that the whore is merely a revision of Spider's mother, a construct of his mind that takes over and replaces Miranda Richardson's exaggerated motherly loveliness when Spider becomes more and more aware of her sexuality.
Using every shade of grey in his cinematic palette and then filtering it to a pale green, Cronenberg makes no stylistic division between Spider's present reality and his past reenactment, and despite its melodically slow pace and rigidly upheld production design,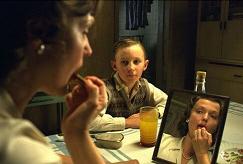 Spider's reality and his past inevitably begin to get tangled as Miranda Richardson transforms from mother to whore, whore to tyrant and Spider attempts to either write himself out of his past mess or relive it in current reality. It all sounds rather muddled, but far from it, with a sparse but talented cast and a concise, eerie score by Cronenberg regular Howard Shore,
Spider
is as minimalist as it could possibly be. The brevity of the entire production makes every visual motif-iron lattices covering the train station, enormous cylindrical gasworks across the street, the twine spider webs both the youth and the man Spider make in their bedrooms)-so overbearing and so visually crushing that one can actually feel how oppressed Spider is within his environment, and it also builds an extremely unsettlingly atmosphere of fatalistic suspense, as these markers and symbols of the state of his life and his mind are slowly dragging Spider to a conclusion he already knows.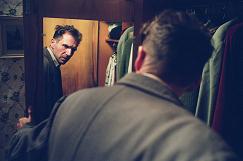 The recreated past of Spider feels as if he skimmed some Freud and down the road went crazy, only to rebuild his childhood based on vague remembrances filtered through warped knowledge, filling it with a demonic father, bizarre sexual reimaginings of his mother and revenge fantasies. The film ends with surprisingly conventional twist, but one that powerfully hammers home the sad loop Spider is stuck in. He builds up an elaborate façade to reinvent a traumatic past but his own psychological detective work damns him to repeat the whole cycle again. In its eerie simplicity, a pace that wavers on the borders of unusual suspense and unnecessary inaction, and the overwhelmingly purposeful drab production,
Spider
is sometimes not the easiest watch, but it is piercing psychological investigation is effectively wrenching and contains two unforgettable and unforgettably weird performances by Fiennes and Richardson.