Spellbound
Jeffrey Blitz's rock solid documentary about National Spelling Bee contestants delivers just what you expect: a lot of braniac pre-teens asking for the root of words like
heleoplankton
through their braces. That the film is an entertaining and humorous look behind the scenes of this peculiar Nerd Olympics is all well and good, but where the film really succeeds is in its larger picture of American education as seen through eight fantastic characters.
The best shot in the film shows a sign in the Hooters parking lot celebrating its 12 year-old hometown champion with the word: "congradulations." Not an intentional mistake, the Hooters marquee is a symbol of the growing disconnect between people who can spell and the other 99% of the linguistically challenged flotsam that make up the American populace (another middle school marquee spells out "chapm"). Blitz focuses his camera on outcasts and weirdos, making sure we see that the American dream -- to work hard, keep dreaming, and strive for success -- is embodied by Indians and Mexicans just as much as white kids. From the poor illegal alien parents of Angela to the heavy-pressure coaching of Neil's rich Indian father, the circumstances in which these children are pursuing their goals are complex in their ethnic, cultural, and socio-economic makeup.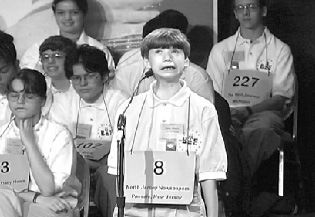 After a first half that hilariously and poignantly explores these undercurrents,
Spellbound
turns into an old-fashioned sports movie culminating in The Big Game. 249 kids take their turns tackling obscure medical terms and taxonomic nightmares, with 248 of them misspelling a word. The lucky winner shrieks in delight much like a point guard who hits the game-winning three-pointer in a Disney basketball film. And even more so than any fictional drama, the Spelling Bee here is absolutely unpredictable. The randomness of word selection and intangibles of on-stage nervous breakdowns make the event ridiculously supenseful. I bit off all of my fingernails wondering if little Ashley would get
ecclesiastical
right. Because what's at stake for these freaks of nature, these products of an educational system that continuously churns out one underachiever after another, is the right to justify their 'outsiderness' in a way. They have found a competition that brings with it all the heartbreak of a sporting event but also with a reward that acknowledges America still somehow champions its exceptional children whose brains are their braun.