The Quiet American
"I don't care if he's crippled, I just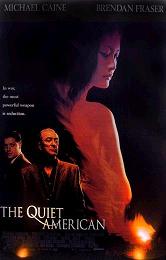 don't want him to die," slurs a drunken American journalist about his polio stricken son, but the statement is more applicable to the relationship between aging British journalist Thomas Fowler (Michael Caine) and American medical aid liaison Alden Pyle (Brendan Fraser). They meet in the Vietnam of 1952, near the exact moment it was beginning to dawn on the French (and the West) that their colonialist foothold in Asia was slipping away before their eyes. Based on Graham Greene's spectacular 1955 novel,
The Quiet American
is director Philip Noyce's second part in his continued attempt to reinvent himself as a distinguished director (the first being Rabbit-Proof Fence), though once again it seems that his new cinematic ambitions have nothing to do with dramatically improving his Hollywood heavy-handedness and more to do with simply picking better stories to tell. This is all well and good (or at least, not bad) when one is handling a story as simplistic as
Rabbit-Proof Fence
's desert trek survival story, but Greene's lyrical, subtle novel on the beginning of U.S. involvement in what became its greatest military disaster requires a lighter, more understanding touch than Noyce can muster.
Nearly all the characters in Greene's novel and in the movie are as much their own characters as pseudo-representatives for their respective nations and their involvement in imperialist history. In this case, since the film is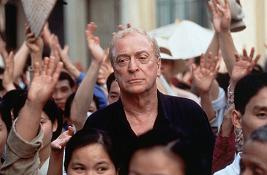 set in a non-British colony, the English Fowler is more a product of long-term imperialism than he is a dangerous physical extension of his country. He lives a relaxed, politically ambivalent life in Saigon with a beautiful Vietnamese mistress whom he claims to love, and lazily throws himself into occasional danger only to send his London home office a journalistic bone to prolong his opium fueled East Asian permanent vacation. Remaining, or trying to remain, totally distanced and objective as a journalist in Vietnam, Fowler takes advantage of the French control of the country to use it as his foreign paradise. He basks in Phuong's (Do Thi Hai Yen) youth and beauty, the exotic atmosphere, and the real (but removed) sense of danger from the war-all far away from the London office he works for and the Catholic wife waiting for him back home. When Fowler does go into the field he cares little that the information he risks his neck for (a mysterious massacre by a third military force in Vietnam) is just barely mentioned into a story that does not even bring up the massacre, he is simply glad that he has been granted another month in Saigon with Phuong.
Fowler's paradise can only last so long as he is a member of the old guard, soaking in the splendor that men of his generation died to capture decades ago, and it was only a matter of time before the new guard sweeps in to replace him. In the 1950s, coming off the global victory and economic boom of World War II, the new guard is wholly personified in Alden Pyle, a square, sincere, and irritatingly straight and enthusiastic young American in Vietnam to help the people with medical supplies. It soon becomes rapidly clear, in an uneasy collaboration between Greene's concise story and Noyce's oppressive hand holding, that Pyle is not only some sort of American agent in charge of finding someone other than the badly losing French to fight the Communists but that Pyle is also going to sweep Phuong away from Fowler. It is an expected turn of events, even in Fowler's mind. Despite his strong feelings for Phuong, Fowler does little to stand in the way of her and Pyle, as indeed there is little he could do anyway as a supposedly objective observer. Phuong's older sister (who acts more as her pimp than her matchmaker) fancies Pyle's neo-colonialist desire to take Phuong to America and wed her as far more lucrative for Phuong and her family than her relationship to Fowler, who's age and Catholic wife put a damper on a concrete and financially agreeable future between him and Phuong. With only a few minor verbal objections and a restrained hatred Fowler lets Pyle have his girl, and soon the country as well.
The allegorical implications of each of the three main characters in the story as representations of their respective countries is dismally obvious in Noyce's film, an element that certainly existed in Greene's novel, but Noyce refuses to build the unusual friendship that exists between Fowler and Pyle that exists in the book and refuses to treat Phuong as anything but a symbol. Pyle and Fowler's friendship, so confounding because of Fowler's apparent acceptance of it even after Phuong leaves him for Pyle, was utterly fascinating
as these two opposite representations managed to get along. The movie makes it feel like Pyle and Fowler (i.e. the British and the Americans) should be butting heads, as Fowler literally sees American diplomats in suits lurking in the shadows of a warlord's jungle hideout and is forced to make an all too obvious sinister connection between Pyle's mission and recent massacres. While Fowler's horror at the underhand American methods is justified, in reality it is Pyle and the controlling French who should be having it out, for Fowler is merely taking advantage of the country's foreign control and it really should not matter who is in charge of Vietnam, as long as it is not the Vietnamese. For Fowler, Pyle is intruding in a European affair that he does not understand and threatening to upset the status quo, both in terms of the war and of Phuong's "love" (which is interestingly ambivalent in its sincerity and its sources for both men). Thus the friendship that springs up between them, and the extraordinary dynamic between Pyle's good intentioned, polite frankness and Fowler's veteran's cynicism and dryness that leads to an honest friendship was one of the most bizarre and interesting thematic facets of the novel. In the film Caine merely states in narration that they were friends but Noyce shows little that would support that claim. Phuong too is shoved to the side in the film and given too little of her role in the novel, where she obediently but intelligently served Fowler up to a point.
Once again, as in
Rabbit-Proof Fence
, Noyce has surrounded himself with a cast and crew (and a story) that can easily overstep his directorial skills. In the case of Michael Caine, who was born to play this role, he manages to leap over every obstacle Noyce places in his way-from an overbearing and unnecessary narration straight from the book to a
for preference for artless close-ups of his sweaty, sagging face-to achieve a tremendously powerful performance. The delicacy of Caine's performance is astonishing, having to carefully balance the personal sadness of his dream world being quickly deflated by American intervention while as a veteran journalist, cynical and objective, it is clear he knew this would happen, and he has to stand aside and let the inevitable future takes its course. Brendan Fraser is not so lucky in
The Quiet American
. Like Caine, Fraser physically embodies his role to perfection, looks like the quintessential square-shouldered, square chinned, honest American just as Caine personifies the proud British slumping under the power of aging and the burden of controlling and experiencing the exotic world for a hundred and fifty years. But neither Fraser nor Noyce makes Alden Pyle remotely believable. From the get go Noyce's direction broadcasts Pyle's intentions for Phuong and his true role in Vietnam, and Fraser does not have the nuance required to give his character any of the ambiguity it needs to strike up a friendship with Fowler, or cast any doubt on his underhanded scheming for both the woman and with the country.
If it were not Michael Caine and Noyce's equally independent cinematographer Chris Doyle,
The Quiet American
would be a total loss. Doyle nearly saves the film as he saved
Rabbit-Proof Fence
, and utilizing the privilege of actually shooting in Vietnam and Ho Chi Minh City he embodies the film with the exact level of dripping atmosphere one would expect from the crumbling European East. With his eye for dramatic lighting Doyle gives each time of day in the film a stunning visual palette: each morning is white and hazy, clouded early with humidity, in the afternoons even the trees and foliage sag under the oppressive blue green dampness of the air and the nights, cooler and allowing more freedom of movement, are filled with more shadows and obscured alleyways than a film noir. Caine, in the sheer strength of his performance, and Doyle, extracting as much beauty from the production as Noyce allows, do what they can to struggle and show the innate appeal of Greene's original story. It is a lost cause, but enough of Greene's ideas, however confused, or over simplified, made it into
The Quiet American
through its cast and crew to make it of some interest.