It May Not Be Cannes, Vienna, Rotterdam, or Toronto....
But it will do just fine. I'm of course talking about the Wisconsin Film Festival, which began it's fifth installment yesterday afternoon. This year, the WFF has added more films, more venues, and is selling more tickets (each year has set a record for attendance, this year about 20,000 tickets have already been sold, as compared to the approximately 18,000 last year); that, coupled with the hard work of the organizers and a receptive audience, is beginning to transform the WFF into quite a notable regional festival.
This will be a rather quick update, since it covers only one day of the festival; also, it will probably be the last one until Monday, as the next three days is one long, movie-marathon (beginning at 5pm tonight with a screening of Akerman's
La Captive
). For me, ever since the second year of the festival, the opening Thursday night slots, have been devoted mainly to experimental film, due to the fact that I try to take in a Wisconsin-Artist or Student Shorts Program. This year was no different.
I attended the first event of the festival, a graduate seminar open to the public, given by Bart Testa, Professor of Film and Semiotics at the University of Toronto. His subject was the work of Canadian avant-garde filmmaker Michael Snow, who was being honored at the festival with a career retrospective. I decided to go to the seminar because I was seeing Snow's latest film
*Corpus Callosum
later that night, and I had only a passing familiarity with Snow's work (having foolishly missed screenings of
Wavelength
and
<--->/Back and Forth
when they were screened here a few years ago). Testa's lecture wasn't exactly accessible to a lay person with limited knowledge of Snow, but I did get the gist of his argument, which was that Snow was improperly categorized as a "minimalist" and part of the "modernist-project," when he should be regarded as an exemplar of "pluralism" and "postmodernism". What was really interesting about the talk, was that Snow himself was sitting two rows in front of me (he gave a little talk afterwards and thanked Testa for his appreciative reading). I did manage to see clips from three of Snow's films during the talk,
Wavelength
,
<---->
and
New York Eye and Ear Control
, as well as some of his work in painting, sculpture, photography, and installation art (he's also a musician). Snow surprised both Testa and the Festival Organizers by bringing a new version of
Wavelength
to the festival for it's premiere; it is a 15 minute version called
Wavelength For People Who Can't Find the Time
(I won't get to see it however).
After getting something to eat and shopping for some CDs on State St., I returned to the Cinematheque for
*Corpus Callosum
; Snow was again in attendance (he sat right behind me during the screening, he was a very nice man, who chatted with the ladies sitting next to him) and explained the genesis of the project (he began jotting down notes for a film about stretching and squeezing in 1981, and began filming in 1996, finishing post-production in 2001) prior to the screening. The film is, in Snow's own words, an examination of "transformation and metamorphosis," (at it's most basic level, the transformation involves the timeframe of the film itself which runs from daytime to late in the night).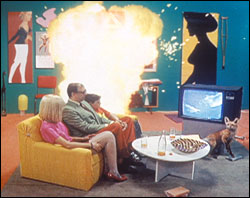 It's a very hard film to explain, and to be fair,
*Corpus Callosum
probably demands repeat viewing to tease out the patterns that I thought I detected while viewing the film. Probably the most noticeable thing about the film is Snow's usage of digital technology to distort the photographic element, changing the volume, shape, area, and size of objects and people within the frame, which itself proves malleable in several instances, seemingly twisting and inverting like a Moebius Strip. Snow uses digital technology in other ways (such as animation) to manipulate other picture elements, combining them other more traditional filmmaking techniques such as staging (several people of various size, body type and gender wear the same clothing, being used interchangeably within and between scenes), stop-motion techniques, and image distortion (for example, in one scene, half of the picture becomes tinted red, and the camera begins to move towards the right, and the red section of the image begins to recede screen-left, perhaps a pun on "red shift") to create an unstable, constantly shifting world, marked by plasticity and artificiality.
The artificiality is emphasized by some of Snow's more traditional self-reflexive techniques. The films begins with a close-up of a crude sign that reads "*Corpus Callosum," before it pull back revealing a nondescript hallway, with a monitor, apparently showing the same scene, hanging above the door. You can hear a muffled Snow talk off-camera directing various "castmembers" (who don't so much act as pose and play-act things they are told to do) to walk down the hallway and go through the door (the camera ends up zooming in on the monitor, so we get a somewhat pixillated version of the previous camera set-up). Throughout the film you can hear Snow's voice giving direction to those on-camera (he used the Beta-cam's microphone, which is why the voice recording is so bad), otherwise, you hear ambient noise or a rising/falling droning, which almost has the pattern of a sine wave. Most of the film is made up of a camera which seems to rove around an antiseptic office building, in a roughly circular pattern, occasionally taking leave of the office to visit an artificial-looking living room set, where a child watches a TV, as his parents and the objects around him disappear and change. During this scene, instead of hearing Snow, you can see his reflection in a mirror at the center of the heavily decorated wall (a wall which includes a Walking Woman Silhouette, a motif of his early 60s artwork). In another instance in this same setting, you hear and see Snow giving directions to assistants to remove objects from the wall, before using stop-motion techniques to make the objects reappear, disappear, and move around the wall.
The film is leavened by Snow's sense of humor and playfulness, involving visual puns and cartoonish visual jokes, which also include naughty sexual jokes (an erection that expands out of control). The most salient instance is when the credits suddenly appear in what turns out to be just a little after the film's halfway point. I was like "Wow, that's the fastest 92 minutes of my life," before I turned around and looked at the clock. Beyond being another instance of transformation (to paraphrase Godard, a film needs a beginning, middle, and end, but not necessarily in that order). The film's titles appear on screen as if they were written with a word processor, replete with mistakes that need to be corrected. Another instance is how the film ends; at a certain point in the film, the film "rewinds" in a digital blur, past all the events of the film, before ending with two of the "main characters" (the two types who appear most often in the film) leading the camera into a screening room. The camera zooms into the screen and a movie appears, it is an example of traditional pencil animation, with the human figure waving and kicking out it's leg. Everytime it does so, the leg lengthens and begins to twist around, eventually forming an infinite sign. As the film ends, we learn that the pencil animation was done by Snow in 1956. The film comes full circle, revealing Snow's continued interest in malleability, with the change from traditional animation techniques to digital animation itself being another instance of transformation and metamorphosis.
After the screening of
*Corpus Callosum
there was another Q&A session with Snow, which was informative on elucidating what he was trying to do with the film. That is one of the best things about the WFF, is that it is still small and intimate enough for the audience to connect with the individual filmmakers.
The next screening was a collection of six short experimental films by filmmakers who either are from Wisconsin or went to school here. For some reason, the festival organizers decided to include a short film by Stan Brakhage in this screening, an explosion of color, like a series of silent, flash frames of abstract expressionist paintings, called
Earthsong of the Cricket
(1999). The shorts that followed it were a mixed bag with two excellent shorts, two good ones, a mediocre one, and one,
Mutable Commute
that was agonizingly bad. The two excellent shorts were
Girl 24
and
Man, Made
(the two good ones were
My Neighbor
an atmospheric short based on the story of the same name by Franz Kafka and a short about pirate radio called
Radio Rails
; the mediocre one was called
Bees and Vietnamese
, a strange, trippy meditation on urban living and race).
Girl 24
is an animated film employing stop-motion techniques in the style of Jan Svankmajer and the Brothers Quay. It tells the story of two robots living in the desert who are commanded to create a little girl out of doll parts and chemicals. After giving the little girl life, the two robots give the girl a doll and show her to her room; but the happiness is cut short when the robots get a command to create a little boy. Sorrowfully, they cast the little girl out into the desert. I've seen a lot of locally produced stop motion animation, and I have to say that the New York-based animator and director, Meredith Root, has created one of the best examples I've seen in a long while.
Man, Made
is an experimental documentary about a bunch of working-class guys (though several of them are artists and filmmakers) who congregate each Sunday at the house of the director's father to watch football and cook out. The film is organized into sections mimicking a football game: Pre-Game, 1st Quarter, 2nd Quarter, Half-Time, 3rd Quarter, 4th Quarter, and Post-Game, with each section being devoted to a subject such as sex, gender roles, and work ethic. The film originally started as conversations recorded during several Sunday afternoons, a few years later the footage used in the documentary was shot, and then the dialogue of the conversations was transcripted and re-recorded with ADR equipment. It all blends together really well, creating a funny and engaging portrait of masculine attitudes (tempered by the thoughts of the director's feminist mother), ritual, and camaraderie.
It's films like
Girl 24
and
Man, Made
(if either of these films does not win the Festival Prize for the non-Student Best Experimental Short, the contest is rigged) that make festival going very special. I still vividly remember the double-bill of
Corner Drugstore
and
Grandma Fern
from the 2nd WFF, two other films that reflect the best of small-scale, personal filmmaking.