The Hunted
The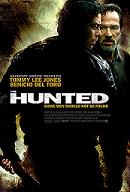 Hunted
, William Friedkin's latest reminder that he no longer is the director he once was, is a strangely succinct, to the point little thriller. When an army covert-ops man (Benicio Del Toro) goes crazy from battle stress and starts butchering hunters in Oregon his former tracker/trainer (Tommy Lee Jones) is brought in by the FBI to, uh, hunt him. Little is said in the film, a few grunts out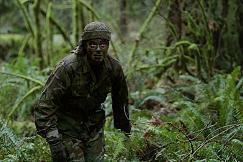 of Jones to let people know he is more comfortable tracking animals in the wilderness than walking through downtown Portland, and a few lines out of Del Toro to let everyone know he is off his rocker (something about being setup by the government leads to him sympathizing with slaughtered animals, thus his killing of hunters). Taking significant cues from both
The Fugitive
and 1981's Rambo movie
First Blood,
Friedkin's thriller could never be accused of being over ambitious. The two men spar off at the beginning, Del Toro escapes, they fight again and the process repeats until one man is dead. The chase and tracking of Del Toro is an unexciting mix of superficial clues (Jones noticing a huge footprint in the mud for example) and the unique cinematic trick of location jumping from picturesque local to picturesque local to make the chase visually more dynamic, much in the vein of last year's horrific
Behind Enemy Lines
.
The entire production being as sparse and barebones as it is-not even the headlining Connie Nielson is given a characterization-there are far too many cringe inducing flashbacks to the "traumatic" battle experience that opens the film and supposedly (and inexplicably) crushes Del Toro mentally. For a movie that seems to purposely avoid any and all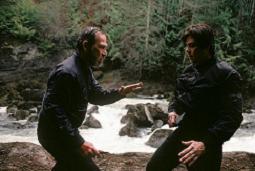 details about its participants, the rupture in tone is simply the final nail in the coffin of conventionality. Here and there though there exist some matters of interest. Despite the lack of continuity in the chase of Del Toro, Friedkin does set most of the film in some very lovely and atmospheric Oregon forest grounds, particularly a spectacular multilevel waterfall and a creeping jungle area where Del Toro spooks and then butchers two hunters. The duels between Del Toro and Jones are the highlight of the movie: technical, up close and brutal in their practiced, mechanical combat, they two men engage in several highly realistic looking matches using only their hands and knifes. The knife fights in particular are especially gruesome, and utterly effective in their brutal display of trained killing power, though typically in the final duel both men are injured beyond belief yet continue to fight.
The Hunted
never tries very hard to push its lazily declared themes of father forced to kill son, animal instincts and behavior, the need to survive etc., and the degree of the movie's thematic sparseness is almost as if the screenplay contained a great deal of ridiculous expository explanations that Friedkin cut in order to trim down a bloated, silly thriller to just a silly thriller. That leaves a movie that contains an utter lack of character with some surprisingly visceral, terrifically edited fights sequences, but Friedkin is no John Woo and there is no way Del Toro and Jones' sparring can hold up the rest of short, empty little chase movie.