Bend It Like Beckham
or My Big Fat Greek Wedding meets Crossroads
God dammit. God dammit. What a waste of my time. Seriously, people. Don't even think about it. Jesus, it was worse than I could have imagined. What a pathetic excuse for a movie -- to call it formulaic is an insult to the formula, and I mean that literally: it can't even get the numbers right to go by the numbers. Just when you thought they had trotted out every single hackneyed, stale, ancient cliche, along comes another one to drag out the movie another excruciating 15 minutes. Sitting through this thing finally became pure punishment, and if you think it's so bad you have to see it, then be my guest.
But the only thing I can think of that
Bend It Like Beckham
has going for it is to see co-star Keira Knightley in various stages of undress throughout the film -- she needs it too, because the strength of her acting ability couldn't knock over a house of cards. Lead actress Parminder Nagra (who looks every bit her 27 years of age but plays an 18 year-old) doesn't fare much better, being forced to either cry on cue, sulk in her room, or stare at Jonathan Rhys-Meyers (
Velvet Goldmine
). Could they have possibly cast anyone gayer than Rhys-Meyers as the straight male love interest? And even worse, the effeminate prancing "actor" is supposedly a former soccer player -- shaming all real gay athletes who actually have skills. His romantic scenes are painful as he tries to look sexy but comes across as either creepy or disgusted. So I bet you didn't think there'd be a shot of the heart-broken Knightley staring longingly at a photo of her and Rhys-Meyers, crumpling it up, tossing it in the garbage, followed by a cut to a close-up of the trashed picture. Guess again. It is that lame.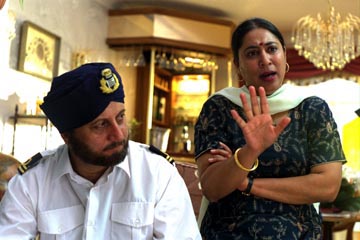 But could the film actually yank out the device of the sister's wedding on the same day as the big tournament final? Yes! Will we see oppressive Indian parents who eventually come around to support their radical daughter? Will she have a gay best friend to lean on when times are tough? Will there be 63,000 musical montages set to upbeat pop songs so that the screenplay doesn't have to develop a real story? Yes! Yes! Yes! With each corny
Saved By the Bell
weekend afternoon television show gimmick that either approximates an incompetent music video or a corny dramatic conflict, the film grates on us like nails on a chalkboard.
But wait, you're thinking, don't expect too much out of this. It's just a fun, inspirational sports movie, right? You just came to see the soccer, right? Forget it. I've never seen such ineptly staged sports action in my life, and that includes student films about wrestling. All the scenes of soccer games stick to close-ups of cleats followed by actresses hitting the turf and then a ball hitting the net. Ridiculous -- you never know where you are on the field, who's doing what, or what the circumstances of the game are. It seems to know virtually nothing about soccer; good play is symbolized by kicking a shot in the center of the goal and hoping the keeper falls down like an idiot. We see maybe one decent crossing ball, no great runs, no swift positionings, and any steals we see are so badly acted that the only response is to laugh in disgust. If The Big Game at the end was supposed to be suspenseful in any way (of course it isn't; the plot is so mechanized that we know everything that will happen 45 minutes before it's telegraphed), Chadha has no clue how to shoot it -- Nagra goes on about playing her best game ever, but we don't get to see it. We see one kick, badly filmed.
Bend It Like Beckham
is cheap, gutter filmmaking dressed up with colorful photography, leggy girls in shorts, and loud dance music (Basement Jaxx make out like bandits from music rights). The production is so scatter-brained that Knightley's hair length changes drastically within a few days of plot time, and every scene where Rhys-Meyers is off the field was apparently shot on the same day (he's wearing the exact same starched white dress shirt and black slacks), or else the character has only one set of clothes to his name. Some critics may want to give this rancid dreck a pass because it's warm-hearted, well-meaning, upbeat and spirited, but that's no excuse for lazy writing, horrid acting, inept direction, and an idea that wastes every single element it introduces -- from interracial romance to the under-filmed great sport of soccer. If only the English hoodlum fans had stampeded during the filmmaking to ruin the equipment, I might have had these two wasted hours of my life back.