The Life and Death of Colonel Blimp
I have fallen in love with another Powell and Pressburger film.
The Life and Death of Colonel Blimp
begins in 1943 with a message delivered to initiate an army exercise: "War starts at midnight." Rather than play by the rules, the gung-ho soldiers storm the Turkish baths several hours before midnight and capture the opposition, including its leader, Brigadier General Clive Candy (a/k/a Colonel Blimp). Athough the film was not actually inspired by the political cartoon, Powell and Pressburger got permission from Blimp's creator, David Low, to appropriate his likeness and name for the film. I had never heard of Colonel Blimp before viewing the documentary material on the Criterion DVD, which includes a number of Low's cartoons, but the image of an aging British military man with rotund figure, walrus mustache, and gruff voice is a familiar caricature.
The Turkish baths were a popular setting for the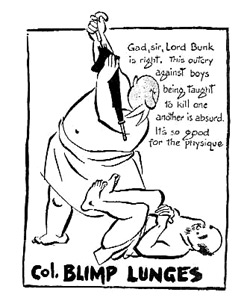 cartoon Blimp, and Powell uses it to wonderful effect at the beginning of
Life and Death
. After being told that he will be a prisoner of war until 6 a.m., Candy (Roger Livesey) enters a long pool at the baths and emerges from the other end 40 years younger -- a rambunctious officer on leave from the Boer Wars and honored with a Victoria Cross, so we know he's brave. He runs off to Berlin intent on countering anti-British propaganda, where he instead comes close to starting an international incident that can only be resolved by a duel and a faux romance with Deborah Kerr (who plays three characters in the film). Even if naive, the young Candy is heroic, zealous, well-intentioned and charming. His reluctant adversary, soon to be friend, in the duel is portrayed by Anton Walbrook, who is fantastic. He may be better here than he was in
The Red Shoes
. In a series of three acts, we watch Candy grow into middle age during World War I and elderly obsolescence in World War II. Both for Livesey's performance and the make-up (which beats the hell out of
A Beautiful Mind
), it's a remarkable transformation. The only time I've been more impressed by an aging job on film was the first time Jennifer Ehle's character appeared in old age in
Sunshine
, until I realized I was seeing Rosemary Harris.
The Life and Death of Colonel Blimp
was controversial when it was released in 1943 for its unflattering depiction of a British officer and its sympathetic portrayal of German soldier, as well as for its message that to defeat something as evil as Hitler and Naziism, it was necessary to fight dirty. Of course, we did fight dirty in World War II. Even before Hiroshima and Nagasaki, bombing of civilian targets had become common on both sides. I'm not convinced that the fire-bombing of Dresden was necessary to defeat Hitler, but the film offered an interesting perspective in light of current events.

Politics aside,
Blimp
's portrayal of an honorable man who foolishly clings to outdated traditions resonates on its own terms. During the middle age section of the film, when Candy brings his new bride to the London house he inheirited from his favorite aunt, she makes him promise never to change, "not till the flood comes." At the end of the film, she's dead, Candy has just been humiliated in the exercise gone wrong and his home has been demolished by an air raid. The footprint of the house is filled with water and Candy observes, "I didn't change. The flood came and I didn't change." Cynical irony may be today's filmaker's stock-in-trade, but not gut-wrenching irony like this.
There are several speech speeches in the film, but they are almost all delivered by Walbrook with such finesse that one barely notices the speechifying. In one of the film's most moving scenes, he tries to explain to an immigration official why he wants to return to England, a country he previously visited only as a prisoner of war. He broke my heart.
Livesey and Walbrook are both extraordinary in this film. Kerr is no Wendy Hiller, but she's fine and beautiful.