Gerry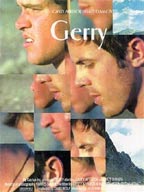 Two guys get lost in the desert. There. That's all you're getting about the plot of
Gerry
, mainly because that's pretty much all there is to it. It sounds like the beginning of a joke, but what it actually turns out to be is the most immensely profound statement by an American filmmaker since
The Thin Red Line
. A three-man project from start to finish, the bare-bones
Gerry
is not only the best thing writer/director Gus Van Sant has ever done, but it's also hard to imagine stars and co-writers Matt Damon and Casey Affleck topping this either.
Damon (whose performance is perfection) and Affleck (whose performance is nothing short of a revelation) are virtually the only faces in the movie, and their dialogue totals maybe twenty minutes of screen time. What's left is an exploration of mankind's journey across an indifferent natural landscape. Silence, rhythm, and imagery make up the rest of the movie -- which serves as a cinematic experience that's as rare as it is dazzling. If you can cease to think of films as being mere stories and broaden your perspective on the art form, you can embrace how brilliantly Van Sant and his crew have constructed this allegory.
The title refers to a slang term invented by the two nameless hikers, roughly translated as "to screw up." It's used as a name ("Hey, Gerry"), a verb ("Did we gerry the rendezvous?"), and a noun ("Going east was a total gerry"). But since the guys' trek across the barren desert is treated as an observation of two close friends whom we will never truly know as well as they know each other, we're privy to a host of clever terms that combine to form almost a new language. It's not odd for these boys to say things like "I almost did succumb but then I turbaned up and now I'm okay," or "I was rock-marooned after scrambling on a crow's nest scoutabout until Gerry made a dirt mattress with a shirt basket." Thanks to the ingenious screenplay, we learn zero back-story on Damon and Affleck -- everything to know about these characters comes across in their actions during this hike; one reveals a macho, dominant side while the other veers towards weak and helpless, yet the strength of the friendship is never in doubt.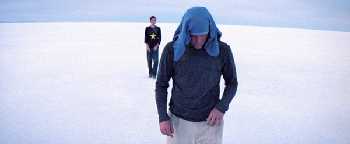 Alternately hilarious and sad, Van Sant's emotional grip (which is as powerful on the third viewing as it is on the first) uses time to its advantage: allowing a simple take of two men walking to develop a musical beat over the course of several minutes until the combination of sound and image speak volumes about the situation. No words are necessary when Harris Savides's rapturous photography reveals the majestic mountain peaks and endless salt flats that pose both a great danger and an irresistible challenge for Damon and Affleck -- these are two guys who choose to forge their own trail to avoid the "fanny packs and sing-alongs" that plague the tourist-ridden path blazed by the national park at which they've stopped during a road trip. And that this decision to eschew society's conventions becomes a life-altering moment for both young men speaks to the tumultuous relationship Americans have with the enormous country they inhabit and of which they think they have control.
The spare use of music (Arvo Part's minimalist piano and string scales) and omnipresence of wind and rocks overwhelms the soundtrack so much that dialogue comes as a shock and a relief; yet never does it serve as contrived exposition. When Damon says "barreling down the road," he's discussing
Wheel of Fortune
, and when Affleck says "one horse shy," he's recalling a video game. But it's hard not to impart significance on such moments -- for the true existential meaning of this hike might even be lost on the hikers themselves.
Clearly drawing from Hungarian director Bela Tarr's films such as
Werckmeister Harmonies
and
Satantango
, Van Sant similarly evokes the wonder and dream-like mystery of Kubrick's
2001
. Damon and Affleck's desert odyssey reminds us of the timelessness of cliffs and canyons against the relative brevity of human life, and while the hikers wait for Godot to drag them back to civilization, Van Sant directs our gaze as closely on the drop of a tear as he does on the rising sun. It's amazing enough that a film so visually spectacular, yet simply about two guys who do get lost in the desert, can tackle issues ranging from the hubris of youth to the bonds of friendship to the search for the soul; but Van Sant, Damon, and Affleck have done just that and more. Don't gerry your chance to see
Gerry
on the big screen: you'll remember where you were the first time you saw it.