Dark Blue
Los Angeles doesn't hold a candle to New York when it comes to celebrations. Did you see the Millennium blow-out in Times Square compared to the pathetic non-chalance of L.A.'s little light show? Unfortunately, New York takes the cake in disasters too. The City of Angels has nothing to compare to 9/11, nothing even in the ballpark. But those who were here (so I've heard) were forever affected by the brutality and shock of seeing the city -- and South Central in particular -- burn to the ground after the 1992 verdict that acquitted the 4 cops accused of beating Rodney King.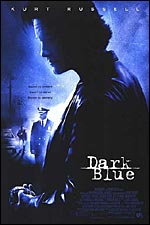 That the riots were inspired by city-wide racism and corruption took a back seat, all of a sudden, to the tragedy that black-owned businesses were being looted, and citizens out to take advantage of lawless streets were bruising innocents when their rage should have been directed more efficiently towards social change. Ron Shelton's new film
Dark Blue
, his first job as a hired gun, takes a story (about the five days leading up to these riots) by
L.A. Confidential's
James Ellroy through re-writes by
Training Day's
David Ayer and filters it through the eyes of a director known for his staggering character meltdowns. Like Woody Harrelson's failed dunking attempts that lose him money and the love of his life, and like Kevin Costner's psychotic 12-shot 18th hole at the U.S. Open, Kurt Russell has a meltdown sequence at the climax of a third act which saves
Dark Blue
from being the disappointment it almost was.
On its way towards another Ellroy tirade against the demonic, monstrously evil L.A.P.D., the first half of the story constructs a cliched, comically cruel and corrupt cop (how's that for alliteration, huh?) in Brendan Gleeson (countered by an angelic but I've-made-mistakes-too black cop in Ving Rhames), a pointless love interest played by the overly serious, icy cold Michael Michele, and some cheesy dialogue that wouldn't be out of place in a soap opera. It's a bit trying, to say the least, getting through these initial plot points because we've seen this so many times before. But then the verdict gets read and all hell breaks loose.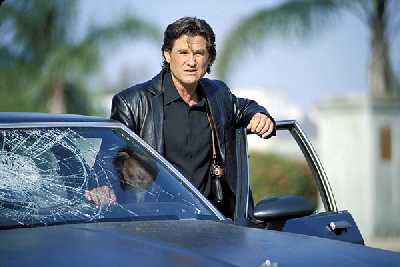 That the Rodney King riots were staged over three blocks nowhere near Florence & Normandie and shot over only two days -- including a balls-out car chase and a dozen shocking acts of violence -- is hard to believe given the skill with which Shelton directs this chaos: the location looks real, the damage looks authentic, and through it all Kurt Russell is acting his ass off. The character of Eldon Perry that Russell creates is a thick jumble of contradictions: he's suave, he's a drunk, he's a racist, he's mean, he's funny, and he's smart. We don't want to ever spend 5 minutes in a room with him, but we desperately want him to climb out of the Hell he's created around him. And to see him literally charging through a scene of lawless destruction sparked by the very corruption he helped to foster is a powerful cinematic moment. Then we're taken to his big speech, the meltdown scene that's written quite well and acted superbly.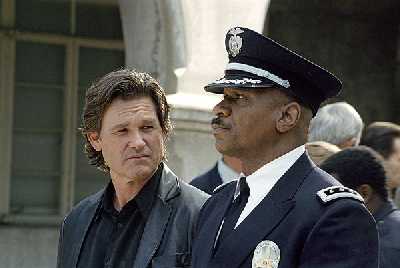 The themes of the film are worn on its striped, embroidered sleeve, and often the script gets preachy with its sanctimonious moralizing. Lolita Davidovich appears in the film primarily because Ron Shelton is the director, but she gets maybe two scenes and a half-assed subplot. Scott Speedman gets more screen time than anyone but Russell, but you can barely remember him after the lights fade up. However, a few tiny performers shine: as Gleeson's two dirty informants, rapper Kurupt and veteran trigger-man Dash Mihok (
Romeo + Juliet, The Thin Red Line
) are funny and scary; and in one brief scene, a law clerk named Dina (shit, I can't remember the actress' name and she isn't listed on IMDb or the film's official site) almost acts Russell off the screen. And in the end, we're reminded that America is full of cities which have been damaged by violence that has forced us to re-think our attitudes towards the government that protects us and the residents that live next to us. On the East Coast there's New York, a more vibrant and tumultuous city whose innocence has been eulogized brilliantly by Spike Lee in
25th Hour
(which, by the way, is also scored by Dark Blue's Terence Blanchard, a trumpeter with a knack for mournful and soulful melodies that never distract from the images), and on the West Coast there's Los Angeles, a bright and random descendant of the wild west that might never be as purely besieged by the viral infestations of the police force in the way that James Ellroy would have us believe, but thanks to a few bold strokes by Shelton and Russell, we get a glimpse, however clumsy, of a real city at war with itself in
Dark Blue
.