Seven Men From Now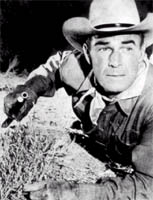 I love Westerns. They are an action-orientated genre, which, for better and for worse, capture a national myth, while usually exploring often intertwined subject matter of interest to me: the American cult of violence, masculinity, sexuality/gender, and race. Add to that, the fact that genre has attracted the attention of some of classical Hollywood's best directors, and you get a large and vibrant cross-section of films, many of which are stylistically, narratively, and morally complex (as a side note: moral complexity has become more and more important to me; not so much the answers or easy conclusions, but the moral complexity of the situations themselves). Most film aficionados have heard of such great Western directors as John Ford and Howard Hawks, and the more knowledgeable Western aficionados are well aware of such luminaries of the genre as Anthony Mann and Samuel Fuller. The really, really knowledgeable usually mention the director Budd Boetticher (pronounced Bet-ick-her) in the same breath, though his films are much harder to come across than the others.
Between 1956 and 1960, Boetticher, then best known for his bullfighting films, directed seven B-movie Westerns starring Randolph Scott (as he got older, I think Scott looked and sounded more and more like Gary Cooper), which were known as the Ranown Cycle, so named after the production company of (Ran)dolph Scott and Columbia producer Harry Joe Br(own). Five of these movies, including the first of the series,
Seven Men From Now
, were written by screenwriter and future director, Burt Kennedy (despite being lumped in with the Ranown Cycle,
Seven Men From Now
was actually produced by John Wayne's Batjac Productions for Warner Brothers). Each semester, the UW Cinematheque features a retrospective of a particular directors works, and I'm glad that this time they chose Boetticher, a director I've always been curious about; they will be showing six of the seven Ranown films (the only one they won't be showing is
Westbound
) as well as his 1951 film
The Bullfighter and the Lady
.
While I was thinking about this movie, I was reading through some of the few sources I have on Boetticher, who was a particular favorite of André Bazin. I came across Andrew Sarris's Boetticher entry in
The American Cinema
, and I think one passage really captures something about the Boetticher film that I saw last night:
"Whatever his action setting, be it the corrida, the covered wagon, or the urban underworld, Boetticher is no stranger to the nuances of machismo, that overweening masculine pride that provides both a style and a fatal flaw to his gun-wielding or cape-flourishing characters. Boetticher's films strip away the outside world to concentrate on the deadly confrontations of male antagonists. No audience is required for the final showdown. It is man to man in an empty arena on a wide-screen before a very quiet, elemental camera. Elemental but not elementary. Boetticher's timing of action is impeccable. He is not a writer-director like Burt Kennedy or Sam Peckinpah, but he is a much better storyteller."
(pg 125)
Elemental is correct, in the tight, compact 77 minute running time of
Seven Men From Now
Boetticher sometimes makes Howard Hawks look like Max Ophuls, as the camera does not move much. Despite taking place on the frontier (it was shot in Texas), and employing a widescreen frame (as well as color photography), there is not an extensive usage of Fordesque vistas, instead much of the action takes place in rather cramped quarters, such as the interior of a ponderosa wagon, or in the various caves, crags, and crevices that characters use to take shelter. Even on the open prairie or in the desert, Boetticher employs tight framings, often in close-up, of one or two characters, and uses shot/reverse shots instead of a roaming camera. Silence is another frequent motif of the film, as the main character, Ben Stride virtually defines stoic; even though there actually is a lot of talk in the film (as Paul Schrader said in an article in
Film Comment
about the rerelease of
Seven Men From Now
, which was considered lost for many years, "talk is cheap."), but there are many, more memorable sequences in the film, where little, if nothing is said.
The film begins with a flash of lightning and a bolt of thunder. It's night, and a thunderstorm is soaking the landscape. The credits and theme song, a ballad about revenge, plays, before an unknown man, face turned away from the camera, walks through the muddy landscape. He spies a campfire and walks over to it; underneath a rock outcropping, two men are taking refuge from the rain. Sipping coffee, they meet the stranger who is revealed to be Randolph Scott's character (named Ben Stride) warily, who asks if he can join them and get out of the rain. The younger one seems to want to run away, but the older man keeps his cool. Talk turns to the nearby town of Silver Springs. There was a robbery, seven men held-up a Wells Fargo station, and in that robbery, a woman was killed. All seven men got away. The older man says "That killin', they ever catch up to them fellas that done it?" Stride simply replies "Two of them." The two men grab for there guns and Boetticher cuts to a pair of horses lashed to a tree; gun shots ring out, scaring the horses.
The film parcels out little of Ben Stride's motivation, at least at first. It's clearly revenge, but we don't really learn what is driving Stride until later in the film. We learn that Stride was once the sheriff of Silver Springs, but after 12 years, the citizens held an election, and Stride lost. He was too proud to become merely a deputy and could find no other work befitting an ex-sheriff, so his wife took the job at the Wells Fargo station, and it was she who was killed by the bandits. Now, Stride will not rest until all seven men are dead.
While the revenge story is the main thrust of the plot, two other narrative strands are introduced later in the film. After Stride kills two of the bandits, he takes their horses and rides towards a town called Flora Vista. Along the way he meets up with a wagon that has become stuck in the mud. John Greer and his wife, Annie, are the owners of the wagon, and they are heading from back East to California. Right from the start, the movie counterpoints the capable, stoic Stride with the rather helpless John Greer, who while, affable, just talks and talks and talks, instead of getting things done. After helping them out of the mud, Stride prepares to ride off, but Greer asks if he will ride with them to Flora Vista, rather fateful decision (and probably the right one, Greer is clearly out of his element in the West). It's fateful, because Stride almost immediately becomes attracted to Annie (Gail Russel).
The third major plot strand is the introduction of the charismatic, ambiguous, outlaw Bill Masters, played by Lee Marvin, and his sidekick, the monosyllabic Cleet. Also from Silver Springs, Masters knows the truth about Stride (and it is he who shares it with the Greers, and the audience), as well as the fact that the seven men have stolen $20,000 in gold from Wells Fargo, and he's out for the gold, and willing to help Stride, to a point (we learn that two times, while Stride was sheriff, he locked up Masters), even saving Stride's life by killing one of the seven men (the fourth, and least important subplot of the movie, is a group of "marauding" Apaches, who are simply looking for food and have taken to attacking small bands of travelers; a war party is chasing one of the seven men, and Stride and Masters ride them off, as Stride turns to get the man's horse, the outlaw draws his gun, but is cut down by Masters). Bill Masters is almost like an evil twin of Stride (he wears a black hat to Stride's tan one); he's as equally well mannered as Stride, though there is a twinge of mocking irony to his politeness, as if that kind of chivalry is as out of place on the frontier. Still, Masters shares much of the same masculine ethos as Stride, "the put up or shut up" kind of attitude that they share. But more importantly, Masters too finds himself (sexually) attracted to Annie Greer, and he also notices the growing attraction between Stride and Annie. It becomes clear as the group rides on, how in effective John really is. Stride pretty much keeps his reservations to himself, but Masters readily voices his own, calling John "half a man." Soon thereafter, Annie and Ben are doing the laundry together, and talk turns to John Greer, and his lack of ability to provide for his wife. Annie Greer begins to mount something of defense for her husband, and somewhat rhetorically asks Ben, "Do you think I love him any less?" Somewhat, unexpectedly, and with a voice tinged with anger, Stride replies with a curt "Yes."
This scene comes before one of the key scenes in the movie. Again it is night, and it is raining. Cleet and Masters are on watch; the Greers and Stride have taken cover inside the wagon. Masters decides to get himself a cup of coffee, and finds the other three sipping coffee silently inside the wagon. We get a master shot of all four of them, with Masters and John in the rear of the wagon, and Annie and Stride in the front. Noting the growing tension between the three of them, Masters begins to tell a very thinly veiled tale which is clearly about the growing attraction between Annie and Stride. Boetticher frames the four of them into three groups, cutting back and forth between them emphasizing the figurative distance between them: a close-up of Masters telling the story, a close-up of John with a pained expression on his face (he may be helpless, but he's not stupid, and more importantly, he really doesn't say much of anything in this scene), and a two-shot of Annie and Stride. Eventually, Stride tires of Masters needling (or perhaps he doesn't like his true feelings mirrored in Masters and his story) and drives him and Cleet off. They ride off into the night for Flora Vista. John takes watch, and Stride clambers underneath the wagon to his bed roll; above him, Annie stretches out in her petticoat and corset, separated from Stride only by the wood planks of the floorboards (if it wasn't for the floorboards, she would be laying directly on top of him). Though the two of them don't say much, it's a rather suggestive scene.
Masters and Cleet ride into Flora Vista where they meet up with the surviving four gang members. In return for a portion of the money (though I'm sure they intended to double-cross the gang), Masters reveals where Stride is and when he will be arriving, in turn, the leader of the gang, Bodeen, reveals that they hired John Greer to transport the strongbox with the gold from Silver Springs to Flora Vista. Back at the Greer's wagon, Stride prepares to leave, knowing what he will face in Flora Vista, and not wanting to endanger the Greers, at least, not Annie. Annie hands Stride a neatly folded shirt, and the two of them impulsively, almost kiss, pulling away only at the last minute. Stride rides off to finish his revenge.
Stride rides through a rocky canyon, where he is ambushed by two of the gang members. Shot in the leg, Stride scrambles into the rocky outcroppings, and takes a position in a small crevice, playing a dangerous game of hide and seek with the two outlaws. Still, they are no match for him, and he kills both of them as they tried to position themselves for another attack. Stride, now wounded, and with his horse having run-off, tries to capture one of the outlaw's horses, but is knocked out in the process, to be found by the Greers later in the day. They help him out, with Annie tending to his wounds, not knowing if he will make it. She wants John to ride ahead to Flora Vista and fetch a doctor, but John reveals that he can not go to town without the wagon, finally confessing to his wife that they are carrying the strongbox, but denying that he knew of the larger implications of his actions. Stride awakes and makes John throw the strongbox off the wagon, and then shoos the two of them away, but before they leave, John hands Stride his rifle.
In town, Bodeen and the other surviving gang member wait in the saloon with Masters and Cleet. They hear the wagon approach and go outside; Masters and Cleet wait up on the porch of the saloon, as Bodeen and the other man go talk to them. John tells them that he doesn't have the money, revealing that Stride took it in the canyon. Bodeen and the other prepares to ride off to confront Stride. John knows what he must do, not only to prove his manhood and repay the debt he owes Stride, but also redeem himself in the eyes of his wife for the moral stain of helping the outlaws. He gets off the buckboard, and begins to walk towards the Sheriff's office, which is at the end of the dirt street; however, between the wagon and the sheriff station stands Bodeen and the other gang member. John walks confidently, standing tall, and most importantly, at least thematically for the film, he walks in silence, saying only a few words first to his wife (knowing that he is most likely to be killed) and then to Bodeen. He simply shrugs them off and continues to walk towards the sheriff's office, only to be shot in the back by Bodeen. Annie and the townspeople rush to John's body, as Bodeen and his henchman ride off. From the porch, Masters wryly remarks to Cleet that maybe John "wasn't half a man," before they too ride off for the gold.
Bodeen and his henchman arrive in the canyon, to find the strongbox in the very center of the wide canyon (the rocky canyon walls are almost like a natural amphitheater, or befitting Boetticher, a corrida). Clearly, it's an ambush set by Stride; the two of them develop a plan to rope the strongbox and ride off with their money, but the henchman is quickly cut down by a bullet fired by an unseen shooter. The death of the henchman drives Bodeen into the rocks, where he is cornered by Masters and Cleet, and shot down. Shockingly, Masters turns on Cleet and shoots him dead also. In a tense scene, Masters walks down to the strong box, and is joined by a limping Stride (who uses Greer's rifle as a crutch). Masters wants the money and Stride won't let him have it. They face off, exchanging a few quick words, some about Annie and her new widowhood, but soon the two men lapse into silence, as they wait for one or the other to draw (both men have displayed their gun prowess throughout the film). Boetticher's camera cuts back and forth between Stride and Masters, separating them into their own frames. The camera rests on Masters for a few beats longer than normal, and then he goes for his gun, but there is an off-screen gun shot. Stride has killed Masters.
Soon thereafter, in Flora Vista, men from Wells Fargo load the strongbox onto a wagon as Stride watches over them. He turns to a waiting stage coach; Annie, dressed in black exits from the hotel. Stride tells her it's a good idea that she is going to California and that he is returning to Silver Springs to take that job as deputy. He bids her farewell, and rides down the dusty street. Annie watches Stride as he rides off, and the suddenly orders the stagecoach driver to remove her bags. She doesn't plan on going to California just yet.