I'm Switching to Digital: Observations about One Hour Photo
We've seen it all before, hell we've seen it this summer, in the guise of
Unfaithful
, a thriller exposing the corruption and false appearances of the suburban bourgeois. And while
One Hour Photo
does not say anything that hasn't been said before, either about suburbia, or photography (when I was riding back on the bus I read Kent Williams's review of
One Hour Photo
, so I'll reference it periodically in this review, you can read it
here
). Kent Williams compared some of Sy's voice-over monologues concerning the nature of photography to the work of Susan Sontag; for my own, personal, pretentious reference of the day, I immediately thought of Andre Bazin's 1945 essay "The Ontology of the Photographic Image," (
What is Cinema? Vol. 1
) and his discussion of the "mummy complex." Here is one choice excerpt:
Hence the charm of family albums. Those gray or sepia shadows, phantom like and almost indecipherable, are no longer traditional family portraits but rather the disturbing presence of lives halted at a set moment in their duration, freed from their destiny; not, however, by the prestige of art but by the power of an impassive mechanical process: for photography does not create eternity, as art does, it embalms time, rescuing it simply from proper corruption.
(p. 14)
Sy Parish in Voice-Over: If pictures have anything to say, it's this: I was here, I existed. I was young and happy and someone cared enough about me to take my picture.
But I digress, and must lead my thoughts back to the movie at hand. Sure, it does not say anything particular new, which has never been all that great of a concern for me, true (saying something new hasn't always been all that important to me, made me reflect; what I find interesting is the movies that have something to complex to show or say about a particular time or place;
One Hour Photo
sadly lacks this, keeping the film out of my personal top ranks), but writer-director Mark Romanek's skill with thriller mechanics and his ability to evoke a specific mood of quiet menace, mainly through his creation of specific environments, is more than enough to create an effective and entertaining movie. There's something to be said for the good music-video/commercial directors (a group usually disparaged, which is unfair, well, unless your name is Michael Bay), it is their ability to fetishize products, whether musical talents or material goods, that when turned against those same products, can create terrifying portraits of the modern condition. Just look at the three main sets/locations used in the film:
1. The SavMart: White, clean, cavernous, antiseptic, sterile. Everything is set perfectly in place, do people actually shop here? The products, placed in straight, neat lines, looks like they've hardly been handled by any customer. The fluorescent lights, muzak, and the cool, blue/white, inoffensive color scheme seems oddly oppressive, as do the simplistic, corporate mantras scattered across the store.
I would go crazy if I worked in such a depersonalized place. Gary Cole, playing a more repressed, less caricatured version of his middle manager from
Office Space
seems perfectly suited for this environment (actually, Cole's two characters are not all that alike, besides their middle management position, but he seems have the look, the perfect embodiment of someone in that position).
2. Sy's Apartment: Sy has completely internalized his work environment (other than his obsession with the Yorkin's, work is all he had, who else would obsess over a +3 cyan gradation), spartanly furnished, white on white apartment, with nothing out of order. The SavMart does not look like it has actually been shopped at, while Sy's apartment hardly look lived in. The most chilling moments, is when the camera strays from Sy and comes to rest upon his bureau, decorated with framed, artfully arranged family 8 x 10 family photos of the Yorkins; and of course, there is the the standard, psycho-movie "shrine," to his obsession.
3. The Yorkin's house: A modern abode with all the amenities. It does look like a magazine ad (as Will Yorkin bitterly points out to his wife), something out of some boutique catalogue; but the ideal has turned soured and cold. Even Jakob's room looks like some sort of ad for a toy shop, with the various new toys scattered about the floor.
And of course, this skill for creating environs extends to the characters themselves, between the Yorkin's fashionable, yuppie clothes, with Connie Nielsen's hair as artfully mussed as Hugh Grant's in
About a Boy
(for some reason, in this movie, even though she played a character not only in denial and immature, trendy, taking refuge in Deepak Chopra, but in love with appearances, she reminded me of an older, sexier Liv Tyler), but mainly there is Sy Parish, with his receding, dyed blonde hair, pallid, yet blotchy skin, and oversized glasses, not to mention the sameness of his wardrobe, whether wearing his SavMart uniform or his "normal" clothes. I really enjoyed Robin William's performance, probably his best since
Aladdin
, with his subdued mania, something I also detected in his early role in
Insomnia
, but this time his Psycho Version 3.0 really worked. Always pathetic, yet sympathetic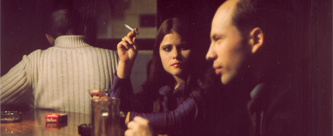 as he desperately tries to insinuate himself into the Yorkin family, only to be rebuffed or patronized by a bunch of people who only feign caring about him (I felt so sorry for him when Will chastises Jake for talking to Sy, telling him never to talk to "strangers," right after Sy and Will had a "friendly" chat about his family). At the end of the film, when Sy decides to terrorize Will and his mistress, you can see the dark side of Robin William's mania emerge. And it was a nice, nonstandard twist to see how Sy carries out his plans. I remember someone saying a few days ago that Sy would never really hurt these people (a fact proved by the final image of the film, after all that transpired, all of the rage directed at Will Yorkin, Sy's fondest dream is still to be part of the Yorkin family). It's still a terrifying and effective sequence, and I enjoyed the ambiguity and how it hid the true effects of his actions. (Actually the film did that a few times, hiding critical info until later, another example is when Gary Cole flips through the increasingly close pictures of the little girl; we don't learn that it is his daughter until well into the next scene).
Even though Romanek acquits himself well, some of his choices are too easy, obvious, unsubtle, clangers, disappointing in comparison with some of the other sequences in the film. For instance, their is the easy irony between Sy's idealized voice-over description of the Yorkin family and the true, brittle nature of the familial relationship. Then there is the whole coincidence involving Sy's flight through an optomologist convention, or when he is trapped by the police, how Sy looks like he was a deer trapped in some headlights. I can't decide if the pun-like names are clever or just stupid; Kent Williams points out "Yorkin" as "Your Kin," and he refers to Sy Parish as "Sigh Perrish," which makes no sense, but he got me thinking of some of my own puns involved in the movie, especially after we learn Sy's true name, Seymour, or "See More." How clever. I did like how Romanek, was also willing to tweak his own creations, the comic montage of the other SavMart photo customers was hilarious (especially the cat lady, the amateur porno guy, and the frazzled new dad) as well as referencing one of the funniest
The Simpsons
episode, "Cape Feare." (for anyone not in the know, it involves being stalked and menaced by Sideshow Bob in a delightful parody/hommage to
Cape Fear
) While, on the whole, the film was expertly put together, here are some quick notes on some shots and sequences that I really enjoyed:
1. The sequence when Sy "invades" the Yorkin house. For some reason, I forgot joker's comments about Robin Williams on a toilet, but I was still shocked to see it. But I particularly loved the tense build-up, when the Yorkin's returned, but then it is totally undercut when the Yorkin's greet him like a member of the family. The invasion, and subsequent fantasy, was all in his head.
2. Joker mentioned the shot of Connie Neilsen, all carefree and stylishly dressed, followed by Robin Williams, on an escalator, entering the frame moments later, from below.
3. The long, moving shot (steadicam?) after Robin William's leaves the one hour photo booth for the last time. The combination of his steady, determined walk, the oppressive aisles after aisles of immaculately placed products, and the rumbling score all contribute to building tension and menace. Will he explode? He looks like he will, especially when he pauses and steals a sharp, serrated knife.
4. After Sy switches the Yorkin family pictures with those of Will's mistress, he follows Nina home. I like how this sequence was done. Sy follows them from a safe distance in his white, compact with a cracked windshield; we watch the Yorkin's SUV drive down the highway through Sy's windshield. We know that they are flipping through the pictures, and Romanek allows the tension to build as the camera lingers on the SUV driving down the road. Suddenly, the SUV begins to swerve back and forth, and you know what Nina sees.
Like I said earlier, an effective thriller, as I said in the title of this piece, I'm switching to a digital camera (I found it unsettling, to think about how people have such potential access to your life, I never really thought about it before, even though I knew people who actually made copies of people's sex photos for themselves); in an era populated with "thrillers," that are that in name only, a film that inspires such tension is good enough for me.